The Business Models of Emerging Cleantech Startups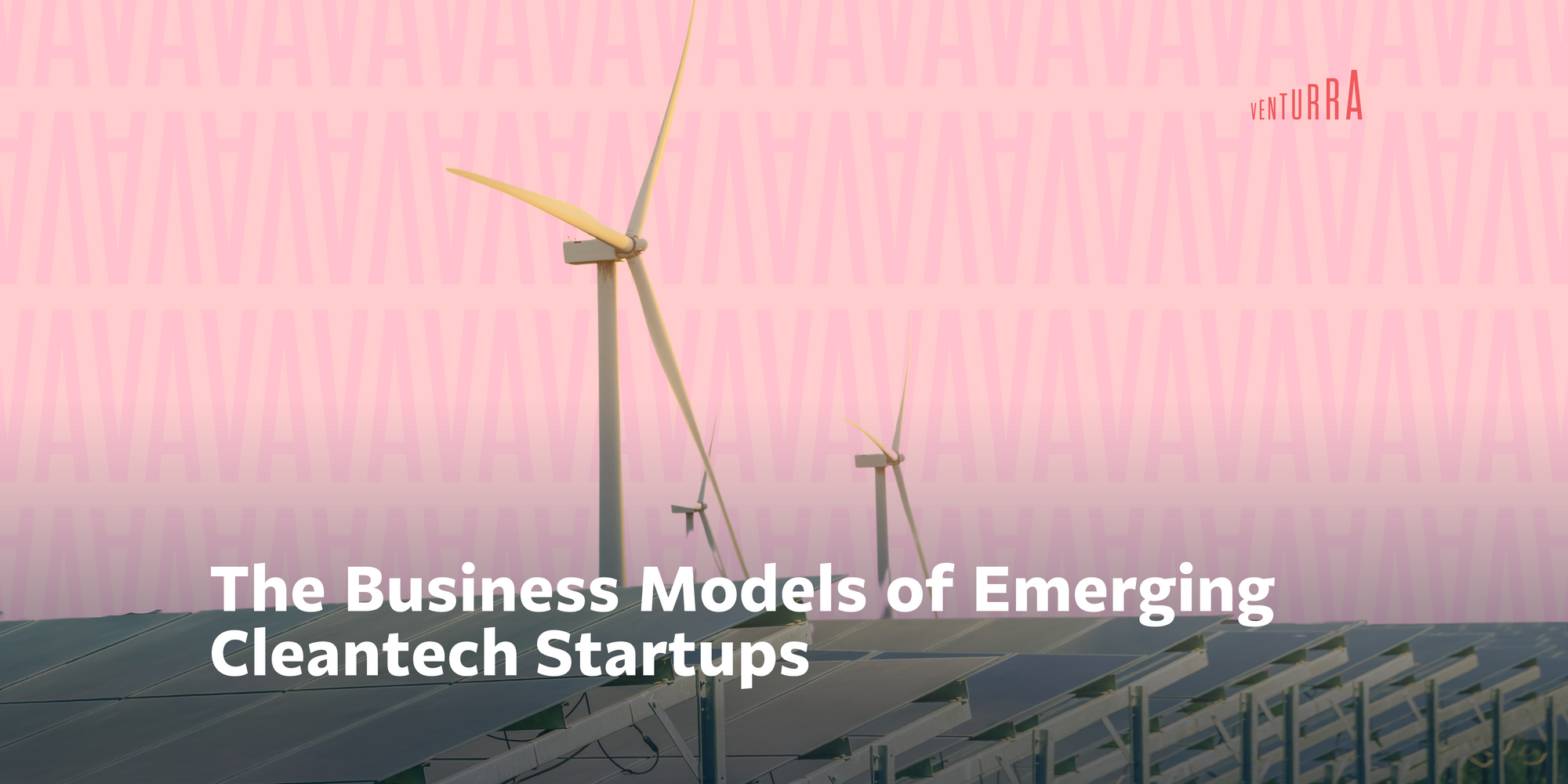 Given the numerous positive indicators for cleantech investment in recent years, it is clear that this industry will continue to experience growth and success in the following year
Between 2020 and February 2022, $1 billion was allocated across 23 deals, of which 70% was invested in Singapore-based targets and 21% was invested in Indonesia-based targets
In South East Asia, private equity and venture capital firms are primarily focused on investing in next-generation solutions, particularly in startups that are scaling existing solutions. Investors are looking for companies that are pushing the boundaries of innovation and creating new technologies that can disrupt traditional industries.
These are 5 priority verticals that account for 60%+ SEA carbon reduction potential

Carbon Credit
To reduce carbon emissions, governments worldwide build a system to trade companies' carbon emissions and it creates a carbon credit marketplace. This mechanism creates supply and demand for emission allowances and establishes a marketplace and market price. Business models that help companies reduce emissions are:
Software
Marketplace & integrated verifiers
Independent quality enablers
Carbon removals
The image below illustrates the evolution of the new voluntary carbon market, displaying the various components and how they are developing over time.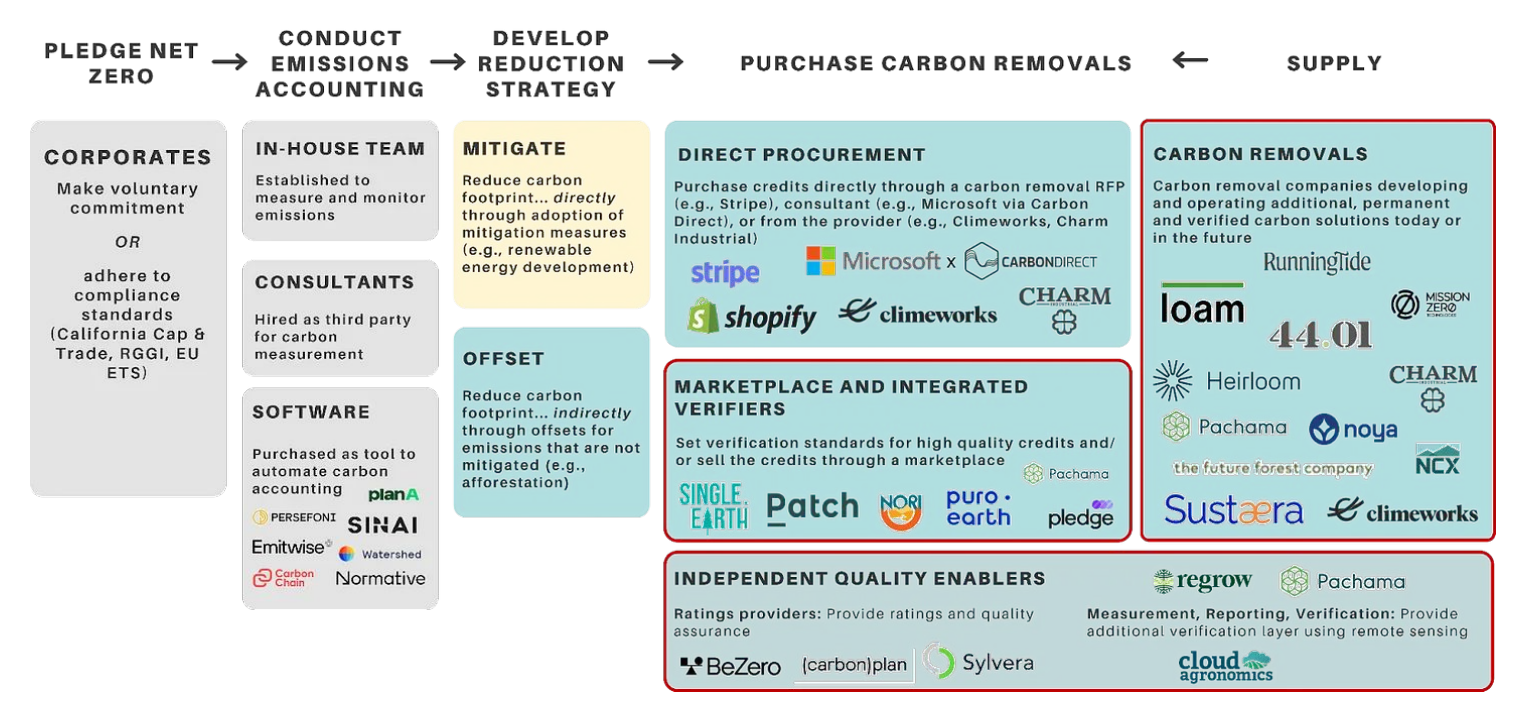 Sustainable Farming
Sustainable farming refers to farming that meets the needs of existing and future generations, while also ensuring profitability, environmental health, and socio-economic equity. As the global population is expected 9 billion people by 2050 with the need for food production to increase by 70% to meet the demands of a booming population.
Various business model within sustainable farming includes increasing access to market, capital, technology, and supplies as shown on the image below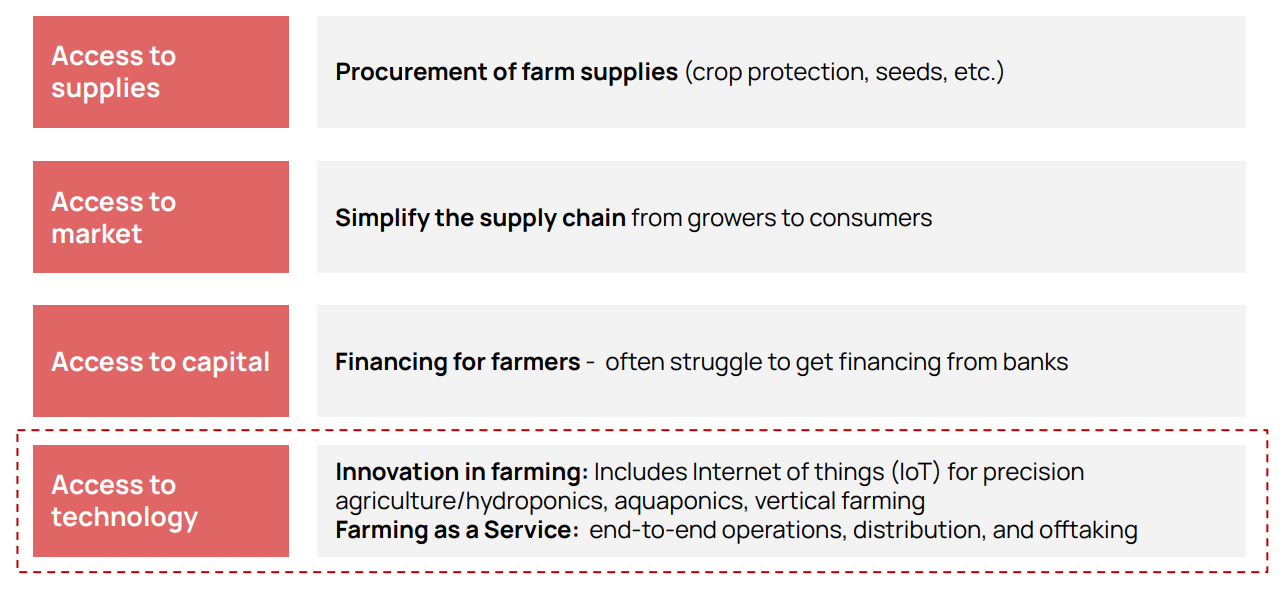 While access to the market and capital business models are widely adopted, access to technology is emerging as a key trend. This model could be the trailblazer for sustainable farming, as it allows farmers to access the latest technologies and knowledge to improve yields, reduce costs, and minimize environmental impact. Agricultural technology could unlock more than $500 billion in GDP by 2030 (McKinsey).
Renewable Energy
Across SEA, Renewables (Solar and Wind) represent a ~$30B opportunity by 2030, of which Solar represents ~$20B, driving the largest impact in energy transition.
Across SEA, Renewables (Solar and Wind) represent a ~$30B opportunity by 2030, of which Solar represents ~$20B, driving the largest impact in energy transition.These are the common business models within renewable energy: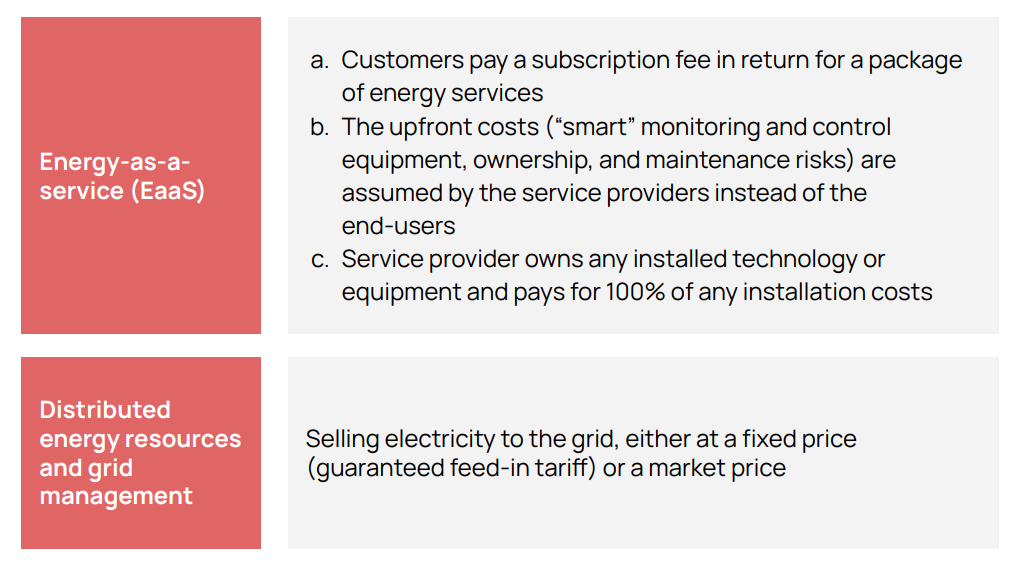 Built Environment
Built environment refers to energy-saving technology and innovative solution, esp. regarding HVAC and green building construction.
Disruptive innovation for HVAC is where startups can explore, catering to public and industrial needs. The business model of startups in this area covers: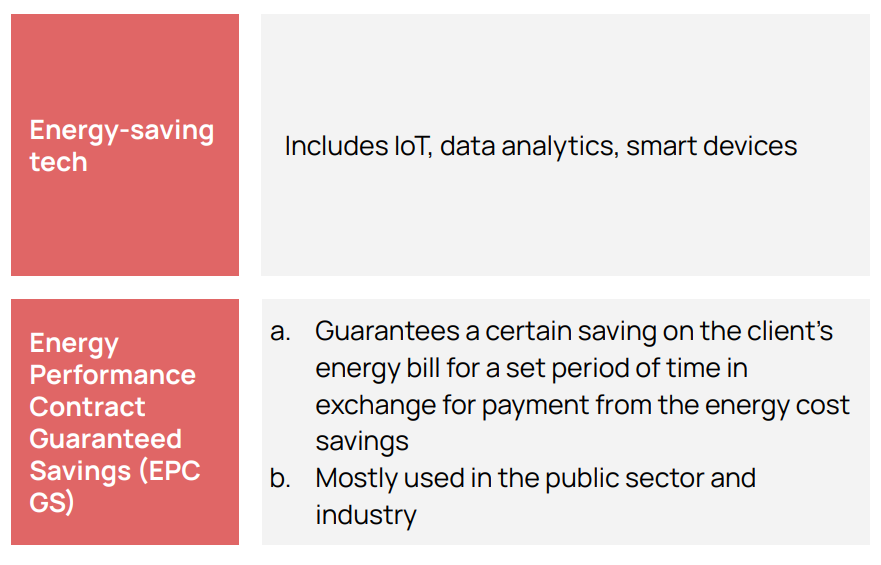 While global companies are investing heavily in the development of energy-saving technologies, the market for these solutions in Indonesia remains largely untapped and companies that specialize in this field are still quite rare. This presents an opportunity for local businesses and startups to enter the market and meet the growing demand for sustainable and energy-efficient solutions.
The potential for growth in this sector is significant as more and more companies look for ways to reduce their carbon footprint and become more sustainable. With the increasing awareness of the importance of energy conservation and the pressing need for sustainable development, the market for energy-saving solutions in Indonesia is expected to grow in the coming years.
Electric Mobility
Indonesia EV market is predicted to grow 21% CAGR until 2027. The EV penetration is forecasted to achieve ~1%. We are seeing 3 business models related to electric vehicle that potentially will roll out in Indonesia: